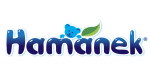 Hamánek Happy Fruit with pears and sea buckthorn
190g
EAN: 8595139780234
Rodné číslo: 23600650000063
The brand Hamánek provides a comprehensive range of fruit-based foods for children from 4 months of age. Fruit that is processed into the food is grown in a special mode and meets the strictest legal requirements in terms of quality of food for children. When buying any Hamánek food, you can be absolutely sure that you give your children the best the nature can offer to us. With 100% content of fruits, HappyFruit can be enjoyed by small children as well as other members of family. Mainly mums who want their small children to get foods with high proportion of fruit without any added sugar will certainly appreciate that this product assortment of baby foods uses careful selection of special varieties of the finest fruits to be naturally sweet. Small babies will certainly like it. Fruit trimming food for children from the completed fourth month of age. 100 g of a product contains 14.2 g of natural sweeteners. 100 g of fruit have been used for creation of of 100 g of a finished product.
Pro výrobu 100 g hotového výrobku bylo použito 100 g ovoce.
Hlavní suroviny:
apples (70% wt.), pears (25% wt.), sea buckthorn (5% wt.), lemon concentrate, antioxidant: ascorbic acid.